Wednesday, June 29, 2011
#7. JAMES DEEN - "A porn actor."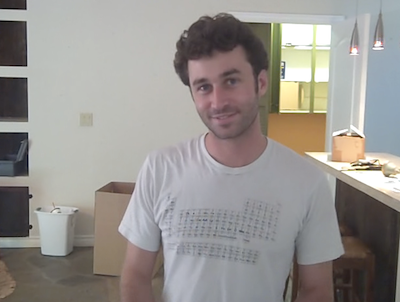 "I'm just gonna go to his house," I told a few people when they asked where I'd be interviewing James Deen. I tried to seem as casual as possible. The responses ranged from people thinking I was walking into a rape-trap, to wrinkled noses, to one friend who was convinced we were going to hook up.

His assumption wasn't unfounded. For months I'd been telling people I knew of James Deen, the young Jewish porn ingenue, from a Heeb Magazine article I'd read about him. This was a bold-faced lie. I knew of James Deen because I've watched his movies. In college, my friend Lee (the same one convinced James and I were going to bang) realized I liked nerdy Jews and directed me to James's filmography. He definitely has his niche audience, uh, nailed.

So I have a long-standing crush. Fine. I'm a journalist. I can be professional. Way in the beginning, I knew I wanted James for 100 Interviews because I think he represents a new kind of porn star, but I also worried about the personal aspect of the pieces I write here. I'd be lying if I wrote like I only knew of James from "reading the articles" to borrow a Playboy excuse. A few months ago, I decided to go for it anyway, tweeting at him, "What's a girl got to do to get your email address?" I expected nothing. He's got over 23,000 followers, most of them women. Within an hour, he direct messaged me. I told him I'd be in Los Angeles in June and we agreed to meet up and do the interview.
Friday, I had my friend Charlie drive me to James's house, where he was actually packing up to move. Charlie had concerns. "I'm just gonna drop you off?," he asked in the car. The conversation occurred in various forms in the days leading up to the interview. Charlie didn't want to come inside with me and play 'big brother,' but he grappled with the idea of leaving a female friend in the clutches of a porn actor. Eventually, I convinced him to let me go alone.